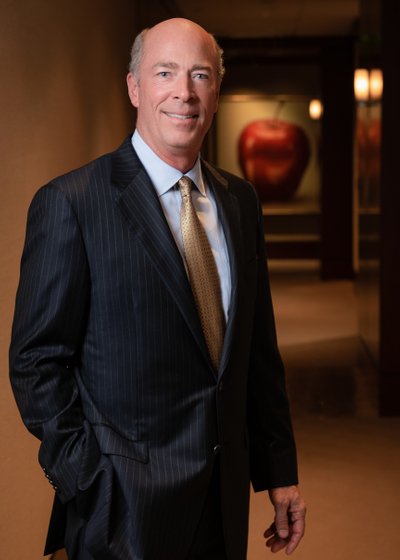 Cary McNair is responsible for the corporate strategy that guides the business operations and investment portfolio at McNair Interests, including the acquisition and development of high-yield assets, and leads a formidable team of executives and professional staff in accelerating business growth and value.
McNair's early years were along the Houston Ship Channel and Texas Gulf Coast managing trucks and liquid bulk trailers in the petrochemical transportation industry. In 1984, he joined Coldwell Banker Commercial Real Estate brokering industrial properties in East Houston.
McNair then entered the family business in 1986 as a financial analyst at Cogen Technologies Inc. His business and real estate experience proved invaluable in helping propel Cogen into the largest privately-owned cogeneration company in the world. As vice president, his primary focus centered on project development in the Americas.
In 1998, upon retiring from Cogen, McNair founded Bulwark Films, an independent movie production and distribution company based in Austin, TX. After establishing a satellite office in Los Angeles in 2004, he co-produced and released "Killer Diller," an independent film that was awarded a highly coveted "Two Thumbs Up" by acclaimed movie critics, "Ebert and Roeper At the Movies." "Griffin and Phoenix," followed in 2006, starring Dermott Mulroney and Amanda Peet.
In 2009, McNair rejoined the family business as Vice Chairman of Palmetto Partners. He restructured and expanded existing operations and launched a series of strategic growth initiatives focused on direct business investments and developments in real estate, medical assets, and public and private equity. He became Chairman and CEO of the newly formed McNair Interests in 2016.
McNair serves as Chairman of the Board of Invectys Inc., and is a Director of GlySens Inc., ENDOQUEST Robotics™ and Xcath Inc. He previously served as a Director of Xeris Pharmaceuticals Inc. and Goodwill Industries of Houston.
Cary McNair earned a Bachelor of Business Administration from The University of Texas at Austin, and a Master of Business Administration from Southern Methodist University in Dallas, Texas.