JOHN PRICE
SENIOR VICE PRESIDENT, CFO and TREASURER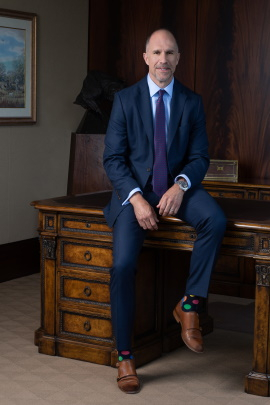 Biography
John Price oversees accounting, finance, treasury, trust operations, information technology, tax and risk management for McNair Interests.
Prior to joining the company, he spent 15 years as Partner, Managing Director and Chief Financial Officer for a Houston-based asset management and wealth, trust and advisory firm. There, he managed the firm's accounting, finance, treasury and fund operation functions and was involved in the management of family office clients. Price additionally chaired the firm's enterprise risk management and 401(k) committees, served as Principal Financial Officer and Treasurer for the firm's registered investment advisers, commodity pool operators and for its registered and unregistered investment funds. Prior, he helped establish a private investment holding company and family office for a high-net-worth family. Price also served as a Manager in the assurance and business advisory services practice for a then-Big Six public accounting firm. He began his career as a financial analyst and later worked as a broker for a commercial insurance wholesaler.
Price is a licensed Certified Public Accountant, a member of the Texas Society for Certified Public Accountants and a member of the American Institute for Certified Public Accountants. He is currently on the board of the Cy-Fair Educational Foundation and serves on the Supervisory Committee of the Cy-Fair Federal Credit Union. Price earned a Bachelor of Business Administration in accounting, summa cum laude, from Texas Christian University in Fort Worth, Texas. He also earned an Executive Master of Business Administration with honors from Rice University.